This content contains affiliate links. When you buy through these links, we may earn an affiliate commission.
Romances with creating protagonists aren't new, but I feel like I've picked up some really good ones recently. These are people who draw, paint, sculpt or develop something beautiful from nothing (or maybe from raw materials), and then we watch them fall in love! Sometimes they can even do something beautiful for their loved ones. There is so much art depicted in these romance novels, and I just wanna see he! What do mixed colors look like? What does the surface look like? Do portraits really immerse you in the soul? So many questions – but we'll never get the real answers, because even though (when?) We get film adaptations of these fantastic stories, the set and prop designers won't do it justice. But that doesn't take away from the love of experiencing visual art vicariously through our characters, who feel all the things in the few hundred pages we can go through with them. Here are some super enjoyable romance novels about visual artists, featuring at least one visual artist you can only dream of.
Touch Me by Alexandria House
Although this is the second book in a series, you can certainly read it on its own (I did). Sharla is a professor at the University of Romey, where Jovani begins as an artist in residence. The two aren't getting the best start, but they can't get away from each other. On the one hand, Sharla continues to dream of a man, and Jovani certainly reminds her of him. Not to mention that Jovani's estranged father is Sharla's huge crush. With so many things holding them together, how can they stay away? (And why would they want to?)
Who is the artist? Jovani's photography centers on bodily positivity, particularly with regard to the black body, and sensuality. I would like to see them.
Content Notes * (CN): toxic family relationships; family reconciliation; witchcraft stuff; pregnancy; violent attack; stay in hospital; excessive displays of wealth; sex on the page
Sing Anyway by Anita Kelly
This darling romance opens as Sam arrives before their friends at karaoke, and I felt it with my soul. They learn that none of their friends will be there, and before they decide to leave, the person they have a crush on stands up to sing along. Her name is Lily and she comes to karaoke with another big group. They never spoke. But this time, instead of joining her group when she's finished, she comes and sits with them. An intense and moving evening is destined to follow. But then what?
Lily makes her own clothes and also makes them for other people. Just from Sam's descriptions… I want them all.
CN: gender dysphoria; discussion on anti-grease; excessive consumption of alcohol; the gender on the page; vomiting off page (not protagonist); clothing experimentation; discussion about an endangered animal (the protagonist works in a veterinary practice)
Being Alone With You from Jodie Slaughter
Speaking of sensuality, this book is hawt. Naomi leaves the Los Angeles company to take some time while staying at the Joshua Tree guesthouse of Ira, one of her artist mother's protégés. He's ten years older than her, and ten years ago she ruined everything by throwing up her feelings on him. But they're both ten years older, even more attractive, and stuck together in the middle of nowhere at the very start of the COVID-19 pandemic. What better way to pass the time than to reintroduce each other?
Ira is a sculptor who focuses on the human form, and there might be a chair involved.
CN: Pandemic; financial insecurity; excessive generosity; semi-public privacy; sex on the page
Satisfaction guaranteed by Karelia Stetz-Waters
When Cade meets Selena at her eccentric aunt's funeral, she could never have imagined that the two would be cast together on an emotional journey. Her relative – Selena's former boss and friend – left the pair both home and business. This business happens to be a badly broken sex toy and toiletry store. As Cade approaches the possibility of saving the shop like an accountant, Selena feels more sentimental towards the whole. But as they spend more time together, revolve around their attraction to each other – and their own ideas of what they deserve – they come to a different understanding.
Selena, while currently working in the sex shop and being fantastic as an educator, is a trained and skilled artist who has since given up her art for Reasons.
CN: grief; death of a family member; discussion of past emotional abuse; discussion on the destruction of works of art; anxiety; recreational drug use; recreational consumption; sex on the page
Lay your head on my pillow by Tanzania Glover
When she started working as a guidance counselor at Lakewood High School, Toni thought it would only be a stepping stone to her happiness. Today, ten years later, she is still here and has given up on finding a new dream. But every interaction she shares with the famous alumnus who was tricked into painting a new mural over the one that was vandalized makes her wonder if she could possibly find more. When a friend's assistant brings them together for a birthday dinner, there are painting lessons on the menu.
Arlan is a successful painter – although most of the paintings in this novel are of a different kind of art.
CN: identity secrets; the gender on the page; mention of the deceased mother
Just like that by Cole McCade
Art teacher Rian just wants to improve the minds of young people and work on his own art. But snickers and football coach Damon's regular invasion of his space are starting to make him rethink that. Especially this time, when said coach barges in, accusing him of cheating on his best player. The only thing is that this same student ran away from Rian's last class citing football as the reason for his haste. With a mystery to solve, the couple are forced to spend time and get to know each other for the sake of their wandering pupil.
Over the course of the novel, we find Rian working on his art, whether it's two-dimensional or three-dimensional, and it all sounds quite fascinating.
CN: pupil in potential danger; fainting; threat of violence; toxic family situation (semi-resolved); adoption; pain; sex on the page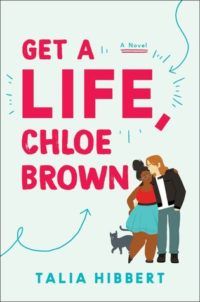 Get a Life, Chloe Brown by Talia Hibbert
If you still haven't bought the Brown Sisters books, maybe telling yourself that the first love interest is an artist will convince you. After coming close to death, Chloe decides to have a life. She has lived with her parents for a long time and she doesn't do much except spend time with her family and her job. His first order of business is therefore to move. Now that she's living on her own, she has to grapple with the controversial relationship she's struck up with her new super, Red. But when he finds his list, he offers to help him out, no matter how tame or naughty the item is.
Red is a painter, who we discover thanks to Chloé's… hum. Voyeurism.
CN: chronic disease; overprotective family; public privacy; discussion of past emotional abuse; sex on the page
Better than the people of Roan Parrish
Jack goes for a lot of walks, mainly because he has a lot of pets who also need a lot of walks. So when an abnormal walking accident makes him unable to escort his pack into the wild, he finds Simon through an app for people who love animals but can't have them. Simon's social anxiety doesn't deter Jack, and the two begin a hesitant acquaintance who grows more and more richer.
Jack is a children's book illustrator who is working on something a little different for his next project.
CN: isolation; social anxiety; non-verbalism; excessive number of domestic animals; description of the fall and injuries; recovery after injury; mention of past emotional abuse; mention of previous financial operations; sex on the page
Port by Rebekah Weatherspoon
When her fiancé is found killed, Brooklyn is struck hard. When it is revealed that he was with another woman, the beatings double. And when one of the dead woman's partners tries to meet her, she doesn't care. But when Vaughn finally convinces her to share her grief, with her other partner, Shaw, the three share something more. Eventually, they reunite and decide to pursue… whatever could come of them spending time together. It could be a fun adventure, or it could end up being something more.
Shaw, that asshole, is a brilliant carpenter and we could all wish and hope to own one of his Cape Cod originals.
CN: grief; discussion of the murder; discussion of cheating; twist; the gender on the page; recreational consumption; unhealthy coping mechanisms; prolonged absences; Unconventional HEA
---
* There has been a lot of talk lately around the idea of ​​trigger warnings versus content warnings and what each means. A peer started using "content notes" instead of a content warning, as some of them only draw readers' attention to the existence of the content, without trying to put it into focus. guard against that. I liked it, so you'll see me using it here and on my personal pages.