"Sunac – beyond the mansion" is an avant-garde retail center in tianjin
completed by the TOMO DESIGN studio, the "sunac – beyond mansion" center in tianjin, China, is coming together as a vanguard hub in the near future. in light of the age of social media and the new retail movement, the project shatters the conventional image of real estate sales centers by mixing artistic flair, digital media, algorithms and commercial function. this intricate weaving of cultural and technological layers produces a futuristic space – with clean silvery hues – that constantly transforms, curves and stretches to accommodate multiple spatial experiences: gathering, education, exhibition, socialization, etc.
all images © tenvisions.studio
merge art, culture, digital media and algorithmic trends
the team at TOMO design, digital media have become a fundamental element of the "sunac-beyond mansion" project. a large LED screen welcomes visitors inside first, displaying the image of decomposed / recombined pixels that make the digital board appear to be malfunctioning. in addition, the center contains a tailor-made linear lamppost structure with an automated program that controls light variations in different rooms. a multifunctional gallery, finally, floats in the center of the entry space and displays an array of digital content, including TED talks, live art broadcasts and talk shows.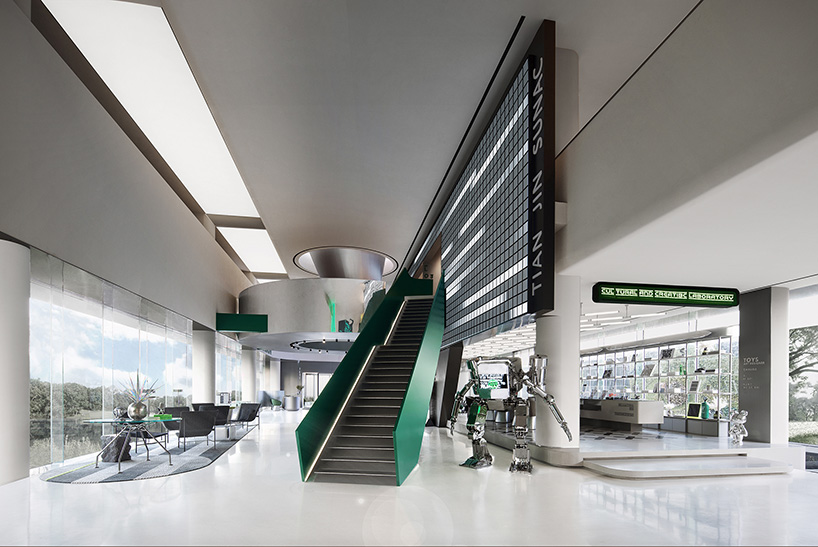 A nod to the era of algorithms and machine learning, a combination of dark paintings, metal shelves, floating electronic screens and automated robot arms presents landscapes that mix future and present, illusion and reality. a robotic art installation, for example, sits next to a brightly colored staircase – articulating a surreal, post-human vibe. Completing the installation is the cultural and creative laboratory that explores the conceptual frontier between commerce, technology and art. it also serves as a bargaining area and gift personalization – 'ttransforming the space into an artistic lifestyle destination full of surprises and improvised attitudes, ' explains TOMO DESIGN.