By Mark Faverman
Rose Kennedy Greenway's Dewey Square mural program is one of the best in the world.
Created by Rob "ProBlak" Gibbs at the massive Dewey Square air intake structure diagonally across from Boston South Station, the stunning "Breathe Life Together" mural was completed last June. It will be on display for a year. Replaced every 12 to 18 months, it is the ninth temporary mural installation coordinated by a creative public arts program on the Rose Kennedy Greenway.
A visual artist and community organizer, Gibbs has been transforming Boston's cultural landscape through the art of graffiti and murals since 1991. ProBlak's work draws on black experiences, Afrofuturism, and non-Western cosmologies to celebrate strength. intergenerational, collective imagination and joys of black American culture. This mural is one of the nicest to have graced the 70 x 76′ wall since the program's inception in 2012. Gibbs' mural focuses on a beautiful little black girl (his daughter) stepping out of the grass, facing to her neighborhood, ready to collaborate with the culture of past generations. She seems to ask the viewer to join in the conversation about the past, present and future of our communities in Boston.
The Greenway was developed from the highly controversial "Big Dig" project, which was completed between 1991 and 2007. It was the most expensive freeway project in US history, plagued by cost overruns, delays, leaks, as well as engineering and design. defaults. There were several accusations of poor workmanship and use of substandard materials. Originally scheduled to be completed in 1998 at an estimated cost of $2.8 billion in 1982 dollars, $7.5 billion adjusted for inflation, the "Big Dig" was completed nearly a decade later. with a cost overrun of approximately 220%. Critics question how significantly the effort has reduced traffic, congestion and pollution.
However, pardon the pun, but "the rose among thorns" was The Rose Fitzgerald Kennedy Greenway's creation (in honor of matriarch Kennedy). Located in the heart of Boston, the Greenway is a series of linear parks and public spaces approximately 1.5 miles long above the tunnel where I-93 ran underground. It was officially inaugurated on July 26, 2004. I once had a barber who told me that the difference between a good haircut and a bad haircut was about two weeks. Also the difference between a rough looking park and a good park seems to be around 5-7 years. The critical jury was initially on the Greenway Conservancy. But over time, an unorganized landscape transformed into a visual oasis populated by beautifully landscaped gardens.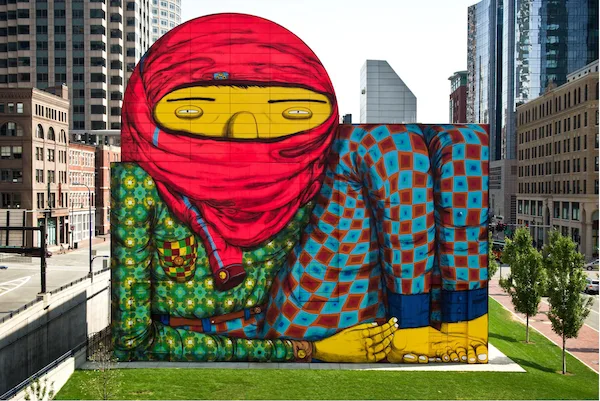 In 2012, The Greenway Conservancy's Public Art Program launched a thoughtfully evolving mural program. His first fresco was as controversial as it was irresistible. Created by Os Gemeos, twin brothers from Brazil, it was an image of a giant yellow-colored figure dressed in bright, mismatched colors who appears to have gotten stuck between the towering buildings around him. The character is one of the emblematic figures of the duo. The artists had hoped their mural would bring color and energy to Boston, inspiring curiosity, wonder and imagination. But it generated a backlash.
Depicting their visions in surreal paintings, sculptures and installations, Os Gemeos' collaborative narrative work, conveyed through surreal paintings, sculptures and installations, visually evokes the everyday lives of ordinary people, often whimsically depicting the color and chaos of Brazil, its carnivals, music and popular art. Why the hostile reactions to the mural? The yellow giant wore an Arabian keffiyeh, or traditional desert headdress. Many viewers felt this suggested a dark message, possibly one of terrorism. The artists welcomed the questioning with ambiguous playfulness. This cavalier attitude sparked much public debate (online and in newspapers) during the mural's year-long residency. A difficult start? Good PR?
Following this fracas, it was predictable that a casual mural, by British artist Matthew Richie, would be the next step. Afterglow, salt and light is inspired by Boston's past and present, evoking both science and scripture. Through line and abstraction, the artist explored the concepts of memory, residue and resonance. (The "Salt and Light" in the title refers to John Winthrop, the first governor of the Massachusetts Bay Colony, and his use of the Sermon on the Mount.) This large-print black-on-white drawing drew (metaphorically) in the vast web of hidden forces and information that surrounds us in the modern world – it suggested multiple levels of experience and reality. Work didn't piss anyone off. The first two murals were curated by the Boston Institute of Contemporary Art.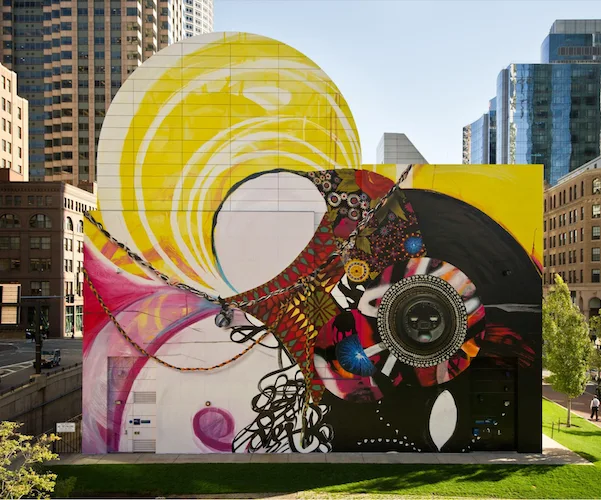 The third fresco was an abstract work, Junction of the Seven Moons created by Shinique Smith. It was based on a detail from his 2013 painting "Seven Moons". Unfortunately, blowing up a segment of an abstract painting was not successful. The resulting mural was clunky at best, visually questionable at worst. It was an example of an artist and curators in the Contemporary Department of the Museum of Fine Arts who stumbled badly out of their wheelhouse. Not every studio artist is a muralist. Not every painter is Diego Rivera, José Clemente Orozco or David Siqueiros or even Shepherd Fairey or Keith Haring. And the fact is that many museum curators lack expertise in public art.
The fourth mural, curated by MIT's List Center for the Arts, was an extremely weak entry by the late New York-based conceptual art pioneer and artist Lawrence Weiner. Its awkwardly asymmetrical red capital letter "A translation from one language to another" on a sky blue background was more a display message than a work of art. MIT curators adored the artist, but the public was disappointed. The fifth mural, by Iranian artist Mehdi Ghadyanloo, was titled "Spaces of Hope". It dealt with dreamscapes, delving into nuanced speculation about the future, striking notes of hope, fear and uncertainty. The work was done elegantly, but it was too dark and too detailed to have any significant visual impact – a surprising misstep for an experienced international muralist.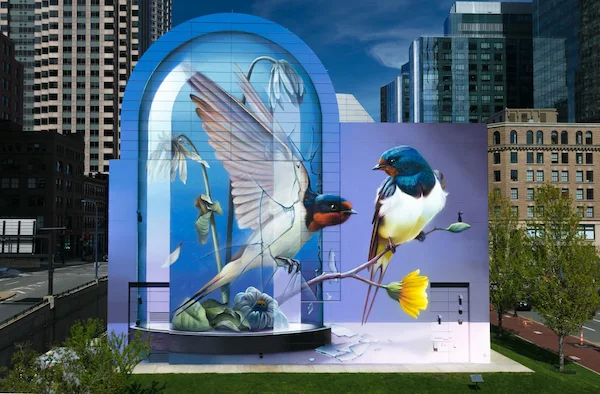 Curated by the De Cordova Museum, Sarah Hughes' sixth mural was another example of a successful studio artist fumbling to come up with a meaningful mural statement. In 2019, however, Dutch artist SuperA (Stevan Thelan) was commissioned. He uses traditional painting technique and skillful design to create compositions that use familiar iconography fashioned in a way that makes provocative remarks. Walking a tightrope between fiction and non-fiction, he created the exquisite, hyper-realistic, yet puzzling "Resonance," which depicts the escape of a beautiful bird from a glass terrarium.
At the height of Covid in 2021, the Greenway Public Art Curator at the time made a rather odd choice. He asked Brooklyn-based photographer and collagist Daniel Gordon (known for his carefully crafted 3D photography) to contribute to a Dewey Square mural. The result: a flat expression of a dense grouping of fruits, flowers and lobsters on various background patterns. Colored- — yes; a good wall subject — not exactly. It was a very, very still life. Fortunately, artist Rob ProBlak Gibbs came to the rescue in 2022.
Even granting my aesthetic reservations, Greenway's Dewey Square mural program is one of the best in the world. The project welcomes a wide range of artistic expressions and adds considerable vitality to an urban environment. Although I classify some of the murals as failures and others as mediocre, some wonderful ones have been commissioned. The key to the program's greatness is that its artwork is continually changing. Only very few international projects have organized this kind of imaginative turnover. No other local or regional mural program offers this kind of refreshing dynamism. For this reason, the Greenway mural program has become a model for a transformative urban mural. It's inspired by Boston's changing weather: wait a bit and the mural in Dewey Square will change.
---
Marc Faverman is an urban designer specializing in the creation of strategic places, civic branding, streetscapes and public art. An award-winning public artist, he creates functional public art as civic design. Designer of the renovated Coolidge Corner Theatre, he is a design consultant for the Massachusetts Downtown Initiative Program and, since 2002, a design consultant for the Boston Red Sox. Writing on urban planning, architecture, design and the fine arts, Mark is editor of the artistic fuse.