The visual arts are not just a subject, they are a way of life. It embodies the way we dress, the hairstyles we flaunt, the makeup on our faces, the decor at our weddings, the vibe of our salons and much more. The importance of this art form, however, goes beyond aesthetics and has taken its rightful place in classrooms at all levels of the education system. The question nonetheless is, with its practical nature, does the visual arts stand a chance in online delivery?
Transition to the online modality
The COVID-19 pandemic has most certainly forced visual arts educators to make the necessary transition from face-to-face teaching to delivering a practice-based topic in an online modality. This transition for most teachers, especially at the secondary level, has been extremely difficult and stressful. As a current speaker, I too felt challenged at first and had to find creative and innovative ways to meet the challenges. I took four important factors into consideration as I progressed through online facilitation. These factors include: consistent practice, guided instructions, comprehensive feedback, and reflectivity.
Constant practice
The concept of practice in relation to the visual arts does not depend solely on the students. More than anyone else, as teachers we have a responsibility to ensure that we are constantly developing our practical skills and that we are able to demonstrate to our students adequately and effectively. In addition, the practice required for e-learning must go beyond the physical paper and shift to the use of online tools available on virtual teaching platforms such as Google Classroom and Zoom. As instructors we have been trained to practice our drawing and painting on paper or canvas, but now COVID-19 has challenged us to start practicing using electronic sketchbooks or demonstrate our work on electronic whiteboards via a virtual platform.
It is important to remember that students should continually produce sketches of any design or concept they are working on. These preliminary sketches will automatically become part of their development portfolio. Being online, students can easily say their studies are done in an attempt to bypass the process and move on to the main project. Thus, it is the instructors' responsibility to create a folder in the virtual space where these studies are uploaded for review. The checks performed by the teacher will indicate which students have not completed their assignments, which should ultimately prevent them from moving on to phase two until phase one is completed. We need to encourage our students to engage in constant practice in order to develop their skills. We also need to challenge ourselves to keep practicing and developing our own skills, not only manually, but also electronically.
Guided Instructions
Now that some of our art students are no longer physically in front of us, how do we provide them with instructions that will allow them to work without us in person? The type of guidance provided for the visual arts may differ from purely theoretical subjects. A visual arts teacher can ask a group of students to create a collage depicting a particular theme. The instructor may have explained the concept of a collage, the types of collages, and the development of a collage, and may have shown students examples of collages. Is this enough to then say to the students: "Go make a collage".
The answer lies in the age and ability of the students you teach. Some students may very well be able to look at the samples and develop their own collages, while others may need step-by-step instructions or a demonstration on creating a collage. This step-by-step instruction is important because it highlights important aspects of the task and the concepts being taught, allowing students to build on existing knowledge effectively (Pressley, Harris & Marks, 1992).
This step-by-step process should always be available in the online space that students can access if they need to be reminded of the task. This may prevent students from emailing or calling us and asking for a reminder of what needs to be accomplished. This strategy is particularly appropriate for elementary and secondary school students. Nonetheless, this is an approach that I employ at the higher education level as a reinforcement for prospective teachers to practice and to keep in mind as they prepare for the classroom.
Full comments
The type of feedback given to visual arts students on their work will determine whether or not they will be able to improve the task. If I ask an art student to produce an observational drawing of a potted plant, after that drawing is completed, I must provide the student with feedback. These comments will indicate the extent to which the student has captured the plant through the use of artistic elements and principles or the lack thereof. This feedback must be completed with the drawing. Again, we operate online and as such what we are looking at is a photograph of the design. Therefore, you are expected to make all comments on the image provided. What does it do? This allows the student to match the comments with the aspect of the drawing that needs to be improved.
General comments at this point would not necessarily help students improve the drawing. Making comments such as "the drawing is flat" or "the pot needs more shape" are considered general comments and do not tell the art student how to correct deficiencies in the drawing. A comment such as "the right side of the pot looks flat because you have to get a variety of tones when you shade – you have a consistent tone all over," will tell students what is expected of them when they attempt to shade. repair problems with the drawing.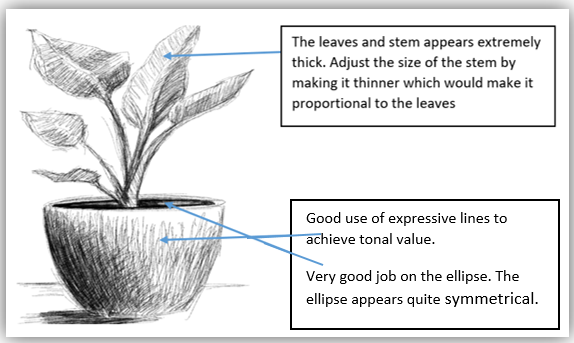 Instructors can paste the photograph of the drawing into Microsoft Word and use the text box feature to enter comments and add them to various aspects of the drawings. You can also use a photo editor on your phone to enter comments on the images. Teaching the visual arts online requires us to give feedback that will help students improve their skills without the constant need to see them physically.
Reflectivity
It is absolutely imperative that visual arts students reflect on the process of artistic creation. Dyment and O'Connell (2003) noted that reflective writing is able to promote critical thinking skills when learners use the writing process as a means of analyzing difficult problems in the classroom and establishing alternative solutions. to the problems they encounter. Art students regularly encounter challenges, especially since they are online and do not have the luxury of interacting face-to-face with their facilitator. Thus, instructors should provide a way for students to reflect, whether through oral communication or in writing. One way to promote this is through constant class criticism. This will allow students to talk about their works by:
Highlight the challenges and limitations encountered
Justify the use of support / resources
Explain the concept behind their work
Discuss the strengths and weaknesses of the artwork
State how they intend to correct errors as they go
This reflective process will give teachers a sense of each student's state of mind and also give teachers the opportunity to question students about various aspects of their artistic work.
Final thoughts
Does the visual arts have a chance online? Teaching visual arts online is no easy task. However, it certainly has its place on the online platform. The idea that this material could be taught entirely online is not impossible but somewhat improbable due to the nature of the material, the availability of tools and materials, and the expressive forms involved. The recommendation is that the material be taught using dual or hybrid modalities which would most certainly provide the students with an optimal experience. The four important factors highlighted (consistent practice, guided instructions, comprehensive feedback, and reflexivity) guided me as I transitioned into the online space. As we continue to operate in this space, I hope we continue to find creative and innovative ways to impact the minds of the artistic generation.
---
Nadine T. Clemetson is currently a full-time lecturer at Mico University College in Jamaica. She is also moderator and assistant examiner for CSEC Visual Arts and CAPE Art and Design. Clemetson loves the online platform for visual arts education and will remain steadfast in her efforts to find innovative ways to make visual arts offerings viable through the online modality.
The references
Dyment, Janet E. and Timothy S. O'Connell. "Assessing the Quality of Reflection in Student Journals: A Research Review. »Teaching in higher education 16, no. 1 (2011): 81-97.
Pressley, Michael, Karen R. Harris and Marilyn B. Marks. "But good strategy instructors are constructivists! " Review of educational psychology 4, no. 1 (1992): 3-31.