Estimated reading time: 6-7 minutes
Designers elaborated ideas submitted by Utahns into 20 "flag-worthy" designs for a new Utah state flag. Now is the time for the public to vote on the designs by taking this survey: flag.utah.gov/final-flag-designs.
The cartoons, released as part of the More Than A Flag project, offer the next installments in a larger conversation about Utah's shared values. These are illustrated with themes and symbols submitted by Utah residents in every county in the state. The goal is that by the end of the year, the Utah Legislature will pass a new flag design that will be adopted as "the people's flag."
To describe the public design process that led to the selection of these semi-final designs, we interviewed Sarina V. Ehrgott, Director of Marketing and Brand for Utah's Department of Culture and Community Engagement, design review subcommittee leaders; and Gareth Fry, assistant professor of graphic design at Utah Valley University.
So tell us: how was the process of narrowing down the 5,703 flag designs submitted, and over 1,500 themes and ideas?
SARINA EHRGOTT: First, our in-house team posted thousands and thousands of designs on the wall of our office building, so the design review subcommittee could see the flag designs and the scope of ideas that they suggested. Any member of the committee could remove a drawing from the wall and pass it on to the next round – one person's vote was enough.
What happened next ?
Then we reduced it, first to several hundred, then to eighty. We grouped the designs into themes and concepts – for example, one group highlighted beehives, for the state as a hive state slogan. Additionally, there were designs that emphasized values, such as the state's unity and mountain landscapes, or depictions of arches.
So what?
Then we worked with flag artists to draw inspiration from submissions and text polls to refine those ideas into what you see now, "flag-worthy" designs. We've also taken into account the color combinations that Utahns most often suggest. We are now in the public feedback phase.
Some posts on Twitter suggest that many semifinal models look alike. What does this comment suggest to you?
I was really impressed and dedicated to the process. Among the more than 5,703 submitted designs and additional themed suggestions, a handful of colors and symbols seem to have really resonated with Utahns. This created a visual language, which impacted many final designs.

For instance?
Here we are talking about these colors and their symbolism. For example, blue represents our lakes and open skies, as well as optimism and justice. Gold represents industry and prosperity. The red and orange represent our state's red rock landscape and strength, and the white represents our snow-capped mountains and values ​​like peace and truth. From a whole rainbow of colors, here's what Utahns say they represent Utah. These are our colors.
---
From a whole rainbow of colors, here's what Utahns say they represent Utah. These are our colors.
–Sarina Ergott, director of marketing and brand for the Utah Department of Culture and Community Engagement
---
This idea: 'to represent Utah.' How do you want Utahns to view representation when it comes to flag designs?
Perhaps a flag design need not represent each community individually, but there is an opportunity to express our commonalities through shared landscapes or values. Ultimately, iconography and colors should encapsulate people now and have respect for our state's history, while looking toward our future aspirations.
Next steps?
After the public comment deadline on October 5, the Design Review Sub-Committee will review all comments at its next meeting. They will submit three or four designs to the Utah State Flag Task Force. And then in early winter, Governor Spencer and Lieutenant Governor Deidre Henderson will recommend a flag to the Utah Legislature for adoption.
Now let's take a closer look at the design: what was surprising about the review process?
GARETH FRY: There were some 25 people in the early committee meetings reviewing the more than 5,700 submissions, most of them non-designers. They brought a wide variety of opinions, and some argued for submissions where the underlying ideas were strong, but the execution faltered a bit. As a designer, I initially felt justified in ignoring these options, but when committee members argued for them, I began to think there was something in there. Some of these submissions have even reached the final refinement process.
Tell us about the refinement phase.
Our role was not necessarily to stick strictly to the original submissions, but, where appropriate, to draw inspiration from those designs without drifting to create our own. At this point, we were working with a small group of designers. We took inspiration from the designs, then combined the fundamental ideas with design and branding best practices, including keeping the design as simple as possible and making it as repeatable across as many mediums as possible.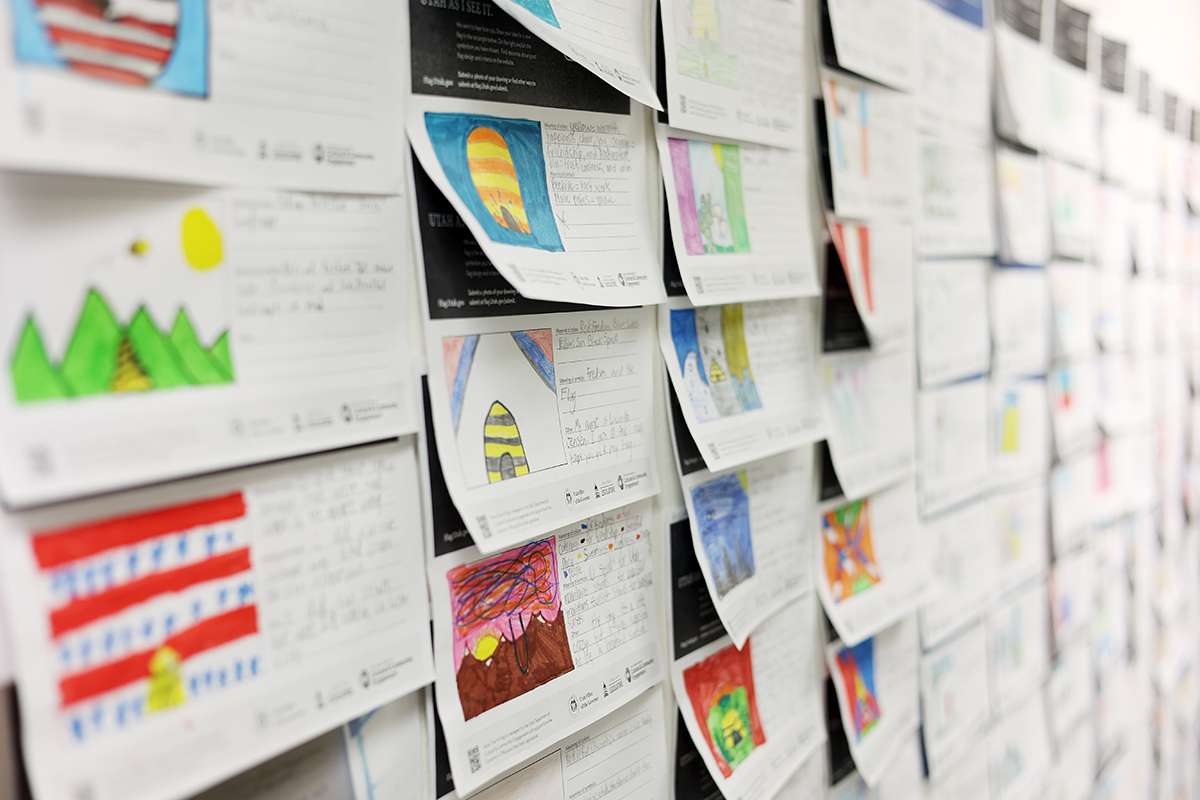 An example?
We kept the basic concepts in mind, including what the author wrote, to use his ideas as a guide. For example, one of the semi-finalists is quite similar to a submitted drawing, which depicted a flag divided into three segments with diagonal lines emanating from the lower left corner. What the author wrote did not actually match the design he created – the design did not show three equal geometric elements for the regions of Utah: the Colorado Plateau, the Great Basin, and the Rocky Mountains. What evolved from this is another design that also made the shortlist. It had a similar feel, but with more defined geographic shapes and clearly identifiable colors in the design.
---
Not just on flag design, but on any design process, designers often feel that part of their job, to one degree or another, is to look ahead to see what might be done differently or better. It is instead of simply replicating and perpetuating what has been done in the past.
–Gareth Fry, assistant professor of graphic design at Utah Valley University
---
What do you hope the public and students learn about this public design process?
I hope they appreciate that we not only want to update the design of the current flag to give Utah something more simple and inclusive, but we could also expand preconceived notions of what a flag should look like . This is how our new flag could stand the test of time and maybe even be a design that other states (and maybe countries too) would envy.
It reminds me of a story about Henry Ford, whose 1908 Ford Model T was named the most influential car of the 20th century. Ford said, "If I had asked people what they wanted, they would have said, 'Faster horses'."
My point is this: not just for flag design, but for any design process, designers often feel like part of their job, to one degree or another, is to look forward. future to see what could be done differently or better. It is instead of simply replicating and perpetuating what has been done in the past.
Register your opinion on the semi-final flag designs here. Learn more about the public design process here.
×
Most recent articles from More Than a Flag
More stories that might interest you